I know it may be hard to imagine that spring is coming soon, especially for those us who are up here in the northern states like us. How can we be talking about spring already?
I don't know about you, but I'm ready for spring break! Let the warm weather in and the sun shine!
I wanted to compile a short list of options for those who want to plan a spring break somewhere warm but not to let it break the bank while you are doing it.
Believe it or not, great vacations are still within reach if you are watching your budget this sprint. It all comes down to how you approach the vacation and where you spend your money.
After we take a trip through some of these vacation destinations, I am going to walk you through a few tips on how to take a great vacation but also have some frugality to it as well.
Orlando, Florida
Orlando has become an epicenter for family entertainment and fun, where people from around the world flock each year. There is never a shortage of things to do in Orlando.
Disney has 4 main parks (Magic Kingdom, Epcot, Animal Kingdom and Hollywood Studios). Universal Studios has 2 parks (Islands of Adventure, Universal Studios). They both have shopping areas (Disney Springs) and well as Universal's CityWalk.
Let's not forgot parks like LegoLand and SeaWorld Orlando, as well as Discovery Cove where you can swim with Dolphins.
The great part of Orlando is that over the years, they have amassed such an enormous amount of hotels and places to stay that it has kept prices down for places that might be just off the beaten path. A room can be found under $100 a night in many places through out Orlando and depending on when you plan to go, it could go even less expensive.
But don't just get hung up on having to go to a park while you are here. There are many options like many water parks, Ripley's Believe it Or Not or even free adventures like access to the many public beaches that are along the Florida coast. Bring a picnic and spend the day out on the beach for a free way to enjoy your vacation and not break the bank.
Orange Beach, Alabama
Orange Beach, Alabama is just over the border of Florida's pan handle and over looking the gulf of Mexico. Because this cozy beach town has never fully been on the map of national tourist destinations, you will find a lot of benefits in keeping this little gem to yourself.
First of all, the prices on rental condos and hotels that you can book are generally much less expensive that those that you will find in some of the more popular locations. They have dozens of inexpensive family restaurants if you wanted to shed the family dinner at home and go out to experience the town.
They have mini golf, a local petting zoo and even tours go see dolphins, just like some of the resort towns. This is a place where you get the warmth, the white sand beaches of the gulf but without the prices.
Myrtle Beach
Myrtle Beach is pretty much where I spent most of my summers growing up. It is where my parents took us during the summer and spring breaks. Even multiple times a year as we were growing up.
I would say this is probably one of the most popular beach destinations in the United States, or at least those of us on the East Coast. It is far enough south to be generally warm during spring break but not too far south to not be centrally accessible to most of those on the east side of the United States.
The Grand Strand is huge, it's essentially 60 miles of beautiful coast, filled with all kinds of entertainment, shopping, beach and fun! From great shows like the Carolina Opry or the totally awesome show called the Pirates Voyage that is a must for kids to the shopping and restaurants galore, there is plenty to experience for everyone here in Myrtle.
Gatlinburg, Tennessee
The smokey mountains, framed out by the local entertainment hubs of Pigeon Forge and Gatlinburg is a great vacation spot for the families.
There is something to be said about the majesty and mystery of seeing these massive mountains rising out of the landscape, going on a hike and seeing animals and nature in their natural habit. Sky lifts and mountain roller coasters all around.
When we were there, we even ran into a gift shop where they had live goats perched on their roof. They have comedy barns, distillers, Ripley's Aquarian and much much more.
You can stay in a hotel, stay in a cabin over looking the mountains or just pitch a tent and cook over a fire. It's really up to you and how inexpensive you want to get.
The beauty of the Smokies, is that seeing the nature up close doesn't cost you a dime. Go experience miles and miles of hikes that not only will give you a bit of exercise, but you can experience this national treasure that we have here in Tennessee.
Atlantic City, New Jersey
Atlantic City may make you think about the glitz and glamour of the flashy hotels and casinos that are in town. There is more to this city than just playing your odds at a craps table.
Atlantic City is a great place for the family, whether you take the kids to explore the Atlantic City Boardwalk or take them to the Steel Pier Amusement Park, there is plenty to do for families beyond what you can find in the casinos.
With the support of the Casinos, it has driven the cost on some of the hotels or vacation condos below the $100 a night range.
Don't forget that there is plenty of beaches to explore in Atlantic City as well.
Washington, DC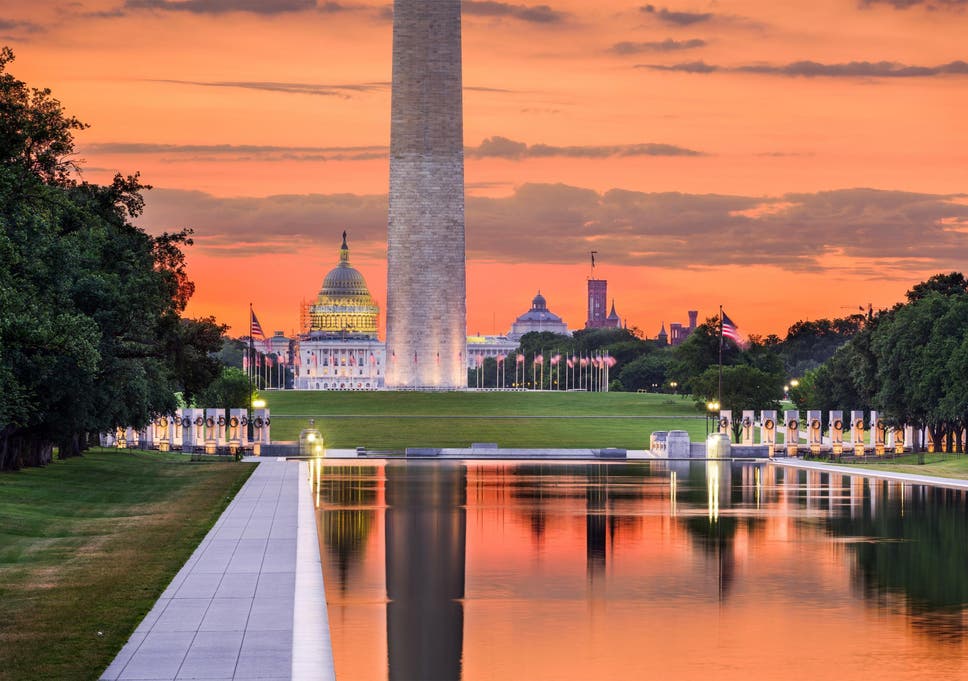 This was one of the best and least expensive trips we have taken, and although I was here as a kid, it still was filled with surprises that made this trip so special to the nations capitol.
If your a history buff, art fanatic, science and technology fan or just plain old political nut, this could be a place to take your family this sprint break.
The cool part of DC is the sheer number of museums that are 100% free. From the sciences, natural history, art and other museums, just seeing it all in person and taking in our national capital is such a treat.
Grab a place to stay on the outskirts of this city and you will find plenty of ways to save money while you are here. I have found options under $100 a night.
South Padre Island, Texas
South Padre Island in Texas is another hidden gem that is more off the beaten path that can save you some money. There are a number of low cost hotels and resorts that can you money but still pack a fun filled vacation.
South Padre Island is also home to the Gravity Adventure Park theme, sea turtle releases and plenty of beach fun for the family. Be sure to check out the bird and nature center that they have there as well.
San Diego, California
So we have spent most of our time looking through places on the east coast and mid-west, but we haven't covered anything on the west coast.
California may not be naturally on your list as cheaper vacation spots in the United States, but believe it or not there are numerous places to stay that are under the $100 a night mark in San Diego.
San Diego is home to the famous San Diego zoo, LegoLand, beautiful beaches, Sea World and more.
4 Tips to Save Money On Vacation
Now that we have covered some fun areas of the United States to spend spring break in, let's talk about how we might do that without breaking the bank. Here are 4 tips that you can take to the bank in order to save money on your vacation this year.
Choose Your Location Wisely
Obviously, getting that beach front condo at one of the more popular resorts is going to cost you. If you are willing to go off the beaten path a bit while on vacation to areas in which are not as high in demand, you are for sure to save some money.
This doesn't mean that you need to forgo the destination that you have your mind set on, it just means that maybe you stay just on the outskirts of the area to bring your costs down.
The more popular the hotel, airbnb or condo, the more expensive it's going to be. Don't be afraid to take in some of the options that may be a few miles further out.
Known When To Travel/Fly
Especially with flights, I have saved thousands of dollars by just coming in and out of a vacation destination on off days. For example, instead of coming back on a Sunday for our family of 5, we decided we would push the travel to Tuesday and we saved a total of $1000 off the flight.
So keep in mind when your leaving and when your coming back and if you can be a little flexible in the day and time, you can save a ton of money. You might want to check out my post on 20 secrets that I have put together on booking cheap flights.
Be sure to read that post, but keep in mind that selling flights is just like anything else in retail. They have to create a false demand in order to sell tickets, so be prepared for rates to go up and go down on the drop of a hat.
Alternative Housing
Most people think about booking a hotel when booking their spring break vacation, but you don't necessarily need to stay in a hotel by default. There are many options for you to consider that may even help you save a buck or two.
Consider renting a cabin in the wood, renting space at a stat park or just getting closer to nature and pitching a tent somewhere close to the action.
You could even consider staying at someone's house, whether that be something like couch surfing or perhaps watching someone's pet while they are away. Be sure to check out my post on house sitting gigs that you can snag near the place you are looking to vacation this year and get a free stay.
Food Budget
The majority of costs associated with taking a vacation is getting there (Flights/Car), where you stay (Hotel/Airbnb/Tents, etc.), what you eat (Food Budget) and what you end up doing while you are there (Entertainment).
You can spend a fortune on food, especially if you land yourself in a restaurant for every meal you partake in while on vacation.
Starting out with a food budget will keep you in check while you are on vacation.
Be sure to keep in mind that packing a picnic for the day can not only be cost effective, it can also be a healthier alternative.
Share with us some ideas that you have had to stretch your vacation dollars far?